Mehna Wins MIT Bootcamp Challenge Tackling Youth Unemployment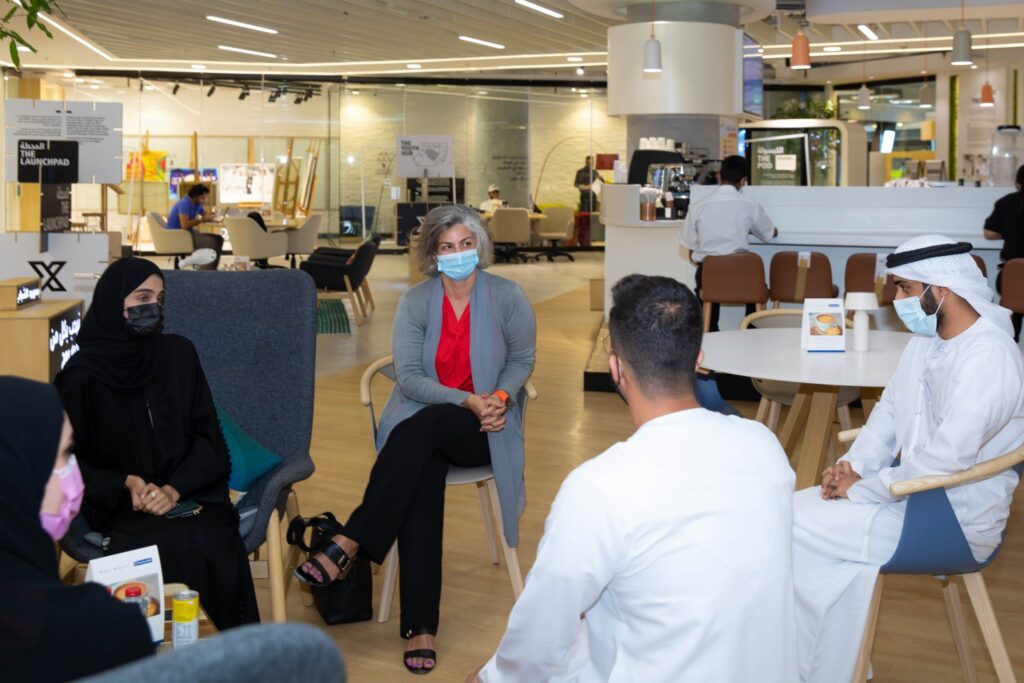 Dubai, United Arab Emirates – 26 April 2021: Mehna has been selected as the first place winner of the MIT Innovation Leadership Bootcamp held in the UAE. The first of its kind in the region, the bootcamp was organized by the Abdulla Al Ghurair Foundation for Education, in collaboration with the Massachusetts Institute of Technology (MIT), and the United Arab Emirates University (UAEU), represented by its Science and Innovation Park (SIP).
The winning project, Mehna, developed by a team of six participants is an online platform connecting STEM students in the UAE to companies in their industries, with the aim of widening professional networks and curbing unemployment. Winning team members, all Emirati citizens, are either students, graduates or Master's degree holders ranging from 21 to 25 years old, with backgrounds in the STEM fields including Biomedical, Electrical, and Chemical Engineering.
Winning team participants represent the UAE's leading universities including UAEU, Zayed University, Khalifa University and the American University of Sharjah. The winning project, along with the 2nd, 3rd and 4th place solutions, will be incubated at UAEU Science and Innovation Park and showcased as part of UAEU's pavilion at Expo 2020 Dubai.
During the 10-week intensive bootcamp, 120 Emirati and Arab youth were supported by 15 MIT coaches. Participants in the bootcamp were tasked with creating innovative solutions addressing the challenges of youth unemployment in the Arab region. The challenge is in line with the 100 Million Stars initiative launched by UAEU which strives to transform the 100 million unemployed youth in the Arab World into 100 million shining stars using innovation and entrepreneurship.
On the MIT Bootcamp's virtual Demo Day, the 22 teams presented their innovations to 12 judges across multiple panels. The four teams of finalists presented their solutions to a high-profile panel comprising of HE Hussain bin Ibrahim Al Hammadi, Minister of Education; HE Zaki Anwar Nusseibeh, Cultural Advisor to the UAE President and the Chancellor of UAEU; and HE Abdul Aziz Al Ghurair, Chairman of AGFE.
His Excellency Zaki Anwar Nusseibeh, Cultural Advisor to the UAE President and the Chancellor of UAEU celebrated the landmark achievement of the MIT Innovation Leadership Bootcamp. He emphasised the novelty of the collaboration between a university in the USA, a university in the UAE, and AGFE as a leading philanthropy that has prioritized the UAE and the region. He remarked, "It is important that organizations from the public and private sector work together to support continued innovation in the design and delivery of educational programs in general, and particularly those such as the Bootcamp which are digitised and immersive." The Bootcamp gives participants the opportunity to develop skills required to lead innovation and become effective entrepreneurs. It is aligned with the UAE's National Strategy for Higher Education 2020, supporting its aim of fostering young peoples' technical and practical skills so that they can make proactive, productive contributions to the UAE as a knowledge-based economy. His Excellency noted that the MIT Bootcamp should leave participants with greater levels of confidence in seeking and finding employment.
HE Abdul Aziz Al Ghurair, Chairman of AGFE, said: "The success of the MIT Innovation Leadership Bootcamp is a reflection of our commitment to addressing youth unemployment in the Arab region through various means, including partnering with leading institutions such as MIT and UAEU to develop world-class programs for students. The Abdulla Al Ghurair Foundation for Education has a role to play in empowering Emirati and Arab youth to thrive and contribute to sustainable development by creating new opportunities in the Arab region, like the MIT Bootcamp."
Demo Day wrapped up an immersive bootcamp experience that kicked off online on February 15, 2021. The bootcamp brought together high achieving Emiratis and Arab youth between the ages of 17 and 35 residing in the UAE.
The winning team comprised the following team members: Maryam Altamimi, Abdulla Almarzooki, Maryam Almarzooki, Reem Musabbeh, Saif Alkhaaldi and Reem Thamer.
Commenting on their achievement, Mehna team, said: "We as youth, are proud to have been part of the MIT Innovation Leadership Bootcamp. This bootcamp experience has given us an opportunity to be the voice of our fellow peers, which is an honor like no other. We would like to thank the AGFE, UAEU, and MIT for giving us this chance and we hope that through our platform Mehna, we will be able to help Arab youth who are facing unemployment challenges. Hoping that this will provide youth in the region with a brighter future."
The second place winner was Saturn, an interactive online platform designed to support businesses by helping them collaborate and build relationships between them. In third place, SkillsFlare assists qualified but unemployed youth between the ages of 18 and 25 years old to strengthen their employability skills. Tamayuz, an innovative platform tackling the skill gap between the outcome of the educational system, and job market demands was in fourth place.
The bootcamp's experiential modules focused on sharpening creative collaboration, provided customer discovery and project design skills, and helped youth extract, conceptualize as well as convert ideas into reality in the entrepreneurial space. The budding entrepreneurs participated in a blend of virtual learning sessions and onsite team meetups held at Dubai Youth Hub, Abu Dhabi's Hub 71, and UAEU SIP in Al Ain, as well as online expert-led sessions highlighting employment challenges, labor market dynamics and entrepreneurship ecosystems using region-specific scenarios.
Vimala Palaniswamy, Director of MIT Bootcamps: "I was very fortunate to meet the students two to three times per week for the last two months and see their curiosity, intellect, and passions applied to this very real problem in the Arab world. I am incredibly proud of what they have accomplished in this short time and am excited to see what comes next, not only for the winners, but all of the cohort. They now have the skills, experience, and a strong local network to continue to tackle this and many other challenges and opportunities they will come across. It was also a pleasure to work with the AGFE and UAEU teams to build and deliver what is a first for MIT Bootcamps – a fully online, challenge-based 10-week Bootcamp."
Creative and context-driven projects pitched to the panels included an online platform connecting employers with job seekers to source solutions for company challenges, a job listing app using data driven tools, and start-up ideas linking employers with graduates across different fields. Other projects focused on providing technical legal and managerial support to SMEs to run their businesses effectively, while another team pitched solutions to offshoring outsourcing in the Arab world.