Over 1,000 Emirati students enroll in the Al Ghurair Young Thinkers Program for career readiness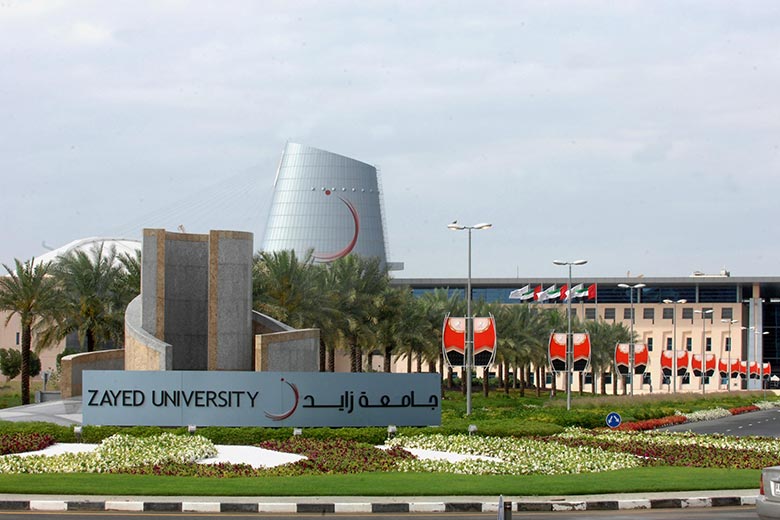 Zayed University (ZU) and the Abdulla Al Ghurair Foundation for Education (AGFE), have successfully marked the first year of their partnership, following a Memorandum of Understanding between the two entities to support Emirati youth along their education and early employment journeys.
Within a year, the partnership produced exceptional results with the flagship initiative. ZU student engagement in the Al Ghurair Young Thinkers Program (YTP), an online education and career readiness platform provided by AGFE, recorded a strong response.
The three-year agreement to formalize the partnership between the two entities and integrate YTP – which offers career exploration tools, professional and soft skills courses, and education and career information – targets 6,000 student enrolments by 2023.
Her Excellency Noura bint Mohammed Al Kaabi, Minister of Culture and Youth, President of Zayed University, said: "The impressive results, achieved in the very first year of our partnership with AGFE highlight the value-add that the private sector can bring to academia, especially in mentoring young Emirati talent for future careers. With academic programs and extracurricular activities aligned to enhance student skills and prepare them for future jobs, the partnership adds further value in our goal to empower the next generation of talented Emirati professionals."
H.E Abdul Aziz Al Ghurair, Chairman of the Board of Trustees of Abdulla Al Ghurair Foundation for Education, said: "We entered into our partnership with Zayed University at a critical time, when the higher education sector and job opportunities for young Emiratis were affected by the pandemic. It was important to build strategic collaborations to create ecosystems of success for youth and their communities. Our goal was to create multiple programs to upskill youth and support faculty, taking into consideration our new reality. We are delighted with the success of program in the very first year, and we are on an accelerated course to achieving our ambitious targets. We believe that empowering our youth is vital when it comes to realizing the development goals set by our leadership."
In other milestones achieved over the past year, over 400 students completed the me3 career assessment tool, while over 650 Emirati students registered for at least one course offered by the YTP platform. 90 percent of the registered students engaged with a YTP Success Advisor, gaining valuable university and career related advice from a specialized professional who deeply understands the needs and dreams of Emirati youth. In addition, over 300 ZU faculty members engaged in training to use and integrate YTP into their teaching approaches.
As part of the partnership, AGFE is also working with ZU's Student Careers and Alumni Department to implement career readiness and upskilling through virtual internships. These virtual internships aim to enhance the employability of Emiratis, strengthen relevant skills sets, and help students expand their professional network. In addition, AGFE conducted awareness sessions with College Internship Coordinators and interested students. In all, 43 student applications were received for internships, with AGFE selecting 12 young Emiratis for the program.
Rashed Al Shamsi, Department Acting Director, added: "This is a strong model of academic and private sector collaboration to upskill our youth, provide them with informed career guidance, and set the path for rewarding professional careers. With the YTP, Emirati students are able to gain tremendous exposure to career choices as well as strengthen their soft skills to seamlessly transition to their chosen professions. The ZU partnership serves as an ideal model to further expand the work of YTP."
Maryam Abdul Naser Lardhi, Zayed University student from the College of Business, said: "I took five courses from the Young Thinker program (YTP). I learned a lot which have helped me to prepare for my career path. What I really like about YTP program that it's not just informative, but it helped us to know how to apply what we have learned in real life by giving us real-life scenarios to listen and reading some cases. Also, for me as a visual and auditory learner I learn more efficiently by seeing graphics, videos which helped that the program engages all type of learners because each course and at least each page of the course has a video of people telling their stories to inspire us."
In addition, there were over 300 ZU students who voluntarily took additional time to participate in specialized webinars and an intense one-week Graduate Development Program to become better equipped graduates with skills required for a successful employment. With the goal of promoting the initiative among more students, the YTP Brand Ambassador program was also rolled out, which attracted 25 Emirati YTP Brand Ambassadors, trained to support in outreach efforts and increase students' enrolment on the platform. Those are the future leaders.
The Al Ghurair Young Thinkers Program is a bilingual (English and Arabic) digital university and career readiness platform designed to support Emirati and Arab students with employment exposure and awareness, soft skill development for success, and advising services to support students in their education to employment transitions. The fully online program is free of charge, has over 37,000 registered users, and supports students and graduates gain the skills that employers are looking for, as well as offer up to date, relevant information pertaining to university life and the job market.